Are you part of those people whose favourite drink is wine? Do you always walk around searching for the perfect place where to satisfy your thirst? Salento and its "cantine" –literally wine cellars- are the ideal place for you!
Whether you are tourists or locals, take some free time to go around and taste some of the delicacies you can find in all the wine cellars located along the entire territory. Generally places linked to traditions, during the last years wine cellars have been turning into one of the principal attractions in Salento –besides seaside, of course!-.
Over the years they begun to improve their gourmet offer, placing side by side high quality wines and typical products from Salento and not. One of the most important wines, here, is Negroamaro.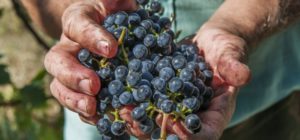 Written also as "negramaro", it is a wine variety characterized by black berries and exclusively grown in Apulia, mainly in Salento. We don't know exactly the origin of the name : some people think it is just the repetition of the same word in two different languages, niger in Latin and mávro, transliterated from ancient Greek. Other people, on the contrary, believe the name derives from the dark berries and from wine's bitter taste.
Formerly used to mix musts from North Italy, it is just during the last decade that wine producers from Salento started to use Negroamaro's grapes to produce wine in purity. This is the reason why you can find on the market  both pure and blended wines –usually Negroamaro is mixed with the black Malvasia, a group of wine grape varieties grown historically in the Mediterranean regions-. Among blends, the most known is Salice Salentino DOC (controlled designation of origin) made Negramaro –minimum 80%- and Malvasia –maximum 20%- which weakens pure Negroamaro's original taste.
Below a list of some of the most important wine cellars where you will have the chance to appreciate this authentic delicacy.
Castello Monaci – S. Pancrazio (tel. 0831 665700)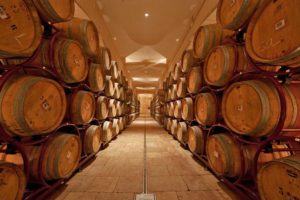 Nature and technology meet at Castello Monaci to create high quality wines. Here, more than 1.000 barrels are located in a room dug into tuff and used for wine's ageing. Thanks to the different Wine tours organized in Castello Monaci you will have the chance to live an intense experience. If you want to discover the wine world of Castello Monaci you can enjoy two different tours : "Piluna Tour" and "Artas Tour", with the second you are allowed to enter the Merum Museum and discover the cellar's history.
You can take part in this tour every day at 11 am, 1pm, 3pm or 5pm. Don't forget to book your tour!
Leone de Castris – Salice Salentino (tel. 0832 731112)
For more than 3 centuries the one and only wine cellars in the North-Western area of Salento, Leone De Castris is famous for being the first wine cellar to have its rosé wine bottled. In 1945 they created the "Five Roses", the most important wine in the cellar.
In Salice there is a district called "Cinque Rose" –literally five roses- due to the fact that for generations, Leone De Castris families used to have 5 children each. At the end of the Second World War, Charles Poletti, Commissioner for Allied Forces' provisions, asked for a big supply of rosé wine, whose grapefruits came exactly from Cinque Rose district. But the Commissioner would the wine to have an American name : the Five Roses was born. An Italian wine but an American name. The Five Roses was carried in empty bottles of American beer made of glass : you can still see the bottles while touring in the cellar's Museum.
Taste Itineraries at Leone De Castris', with different durations, are three : "La grande tradizione", "Food Experience" and "Donna Lisa".
Vecchia Torre – Leverano (tel. 0832 925053)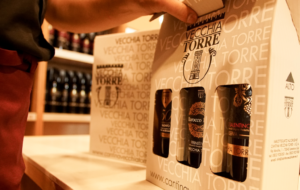 At the beginning only 50 people joined their forces to found Vecchia Torre. From 1959 until now the cellar has developed considerably, just think that every year they produce and sell around 2.500.000 bottles! At Vecchia Torre people cultivate mainly red berries wines, but you can find also white berries grapevines. The strong point of the cellar is the quality-price ratio : high quality wines at affordable prices, so that everybody can appreciate the result of this ancient company's  efforts.
At the wine bar you can appreciate and taste the cellar's delicacies, both wine and gourmet specialities.
Schola Sarmenti – Nardò (tel. 0833 567247)
A family-run farm, Schola Sarmenti was founded in 1999 to make wine according to the tradition. Dating back to 19th century, the establishment has been brought again to light after being kept closed for over 50 years : an old symbol of the oenology from Salento, in which culture and territory melt with tradition and architecture.
Inside Schola Sarmenti, past and present are perfectly mixed in the place used for wine's ageing, obtained from a sequence of tanks side by side. At the wine bar you can enjoy a taste experience and appreciate the different products from the cellar, among these the "Diciotto" –literally eighteen- stands out, thanks to its quality and character.
Palamà – Cutrofiano (tel. 0836 542865)
Since 1936 Palamà wine cellar is a family-owned wine-producing company located right in the core of Salento. Their high quality wines are espalier grown or grown as alberello (free standing bush), turned into pure or blended wines. It is exactly Palamà family –for three generation-  who takes care of the wine production, from the harvest to the vinification.
The cellar's flagship is the "Metiusco" rosé, made of 100% Negroamaro grapes. Characterized by fruity notes, its name comes from Greek and means "I become inebriate". It is also interesting "Il vino D'Arcangelo", 100% red Malvasia so called in honour of the founder of the wine cellar.
Considering that the wine world and everything surrounds it is not easy to explain, every day Palamà family welcomes in the cellar everyone is curious to know something about their history. No matter when, during the grape harvest or any other time, the wine cellar opens its doors to the public. If you come across the Palamà cellar don't miss the chance to enjoy a tasting experience (Mon-Sat 8.30am/1pm – 5/8pm)!